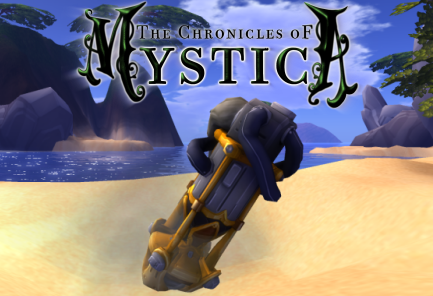 First things first! We'd like to express our sincere gratitude for your support, your feedback and your encouragement over the last two months! Many of you have been with us since the beginning and we are so proud of this community. You've made it such a privilege to develop the Chronicles of Mystica, and your input has helped strengthen and improve it each step of the way.
Lately, we've had our nose to the grindstone, as they say. There are many, many plans that expand upon the player experience beyond what you've seen so far, and we're anxious to introduce those new aspects to the gameplay. I'm sure many of you can deduce what's coming up with a little exploration. We've only laid the foundation so far, thus our work if far from done. We've been heavily absorbed in our respective areas making sure we achieve that, collectively, with the very best results for you.
We've also been optimizing and stabilizing the core game and the MystiPedia 5000, which has benefited so much from our community sharing their comments and experiences with it. The goal is to make it an asset to your experience, and it's gone through some positive changes in a short period. It is now resizable, as well as copyable via shift + drag. Grim has been steadfast in ironing out bugs and improving it's performance and usability. We still want to hear your thoughts on it, so please keep us informed!
Kaz has been up to her neck in traits! You will be so pleased when you discover one of these amazing and unexpected new features! As always, her work is beyond incredible, and you will definitely see the unsurpassed quality once revealed. Every time I spend time with her or watch her work I get so excited about the future!
We're still getting inquires on Satellite Stores, and that's still on the docket. Our primary goal with satellite stores is to make sure stability is achieved before content is made for sale from other locations. We want all of our adventurers to have a seamless, intuitive experience and we're still tweaking a few small things to bring that to fruition. It's not far off, but we want those who host these vendors to have the utmost confidence in delivery and performance.
I want to briefly touch on rarity! I know that some of our users have expressed concern about new species presenting too quickly, and they fear that will have negative implications on the secondary market. We don't normally discuss numbers, but for the sake of transparency, I'm going to make a teeny tiny exception. It's not as easy as it might be presumed to discover and propagate newly discovered types of Mystics. In a previous newsletter, I mentioned that rare to us was actually rare, and I want to reinforce that here. It is true that numbers fluctuate considerably over a period of time, but as of last night, only 20 Mirages exist throughout the entire population of Mystics. Of the thousands and thousands out there, only 8 Summits. And there are two types of which there is only One so far. Of course our most commons are those from starter packs, but that's expected, as those are the entry point to examining and revealing the possibilities of every Mystic. We have been observant and we have listened but the numbers don't reflect the saturation that some believe might be happening.
We're still plugging along behind the scenes, and always just a notecard away. We read everything that comes in, and deeply value our communications with all of you, so please lets keep the conversations going to make The Chronicles of Mystica amazing!