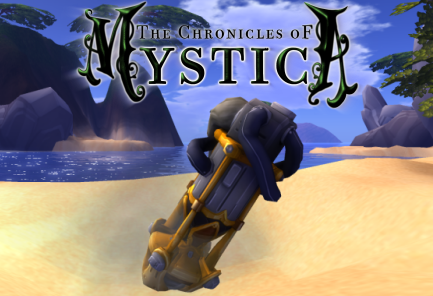 Some on you were right on the nose when you thought that Tobee's database vault of every creature in existence would be accessible to you! Our lore fans with keen eyes usually manage to stay ahead of us when predicting where we're going, what will be seen and what things are coming in the future! The MystiPedia 5000 is one of those things!
The MystiPedia 5000 is a Card that you can use to pull down information from Tobee's database! The MystiPedia card will display any Mystic you select, which is perfect for auctions, marketplace stalls or your personal stores! And it's free to obtain, you can pick one up right from the official Chronicles Of Mystica Region, however, in order to use it, it requires Magika to power it's uplink to Tobee's Information database. Here's some brief instruction on how to use the new MystiPedia 5000!
Get your free MystiPedia 5000 Card and Rezz it near the Mystic you want to display.
You can then click on the Mystic or Pod you wish to display.
Next, you will get a dropdown menu allowing you to choose how much power you want to provide the device, you can choose to provide it enough magika for a single use (50 Magika), or more magika to provide it enough for unlimited use (3000 Magika).
Along with the MystiPedia 5000, this update comes with many new bug fixes and improvement to the general experience:
Improvement – Add name to runaway message
Improvement – Add prefix to the names of the pet/pod/home objects to help manage SL inv
Improvement – HUD now warns if you try to fill and have 0 magika
Improvement – Pause pets movement when selected
Improvement – Add "Tick" marks to pregnancy progress bar
Improvement – Rename "Pregnancy" field to "Cycle"
Bug fix – Fix minor issue with first pregnancy being up to 4 hours early
Bug fix – Make "Peckish" hunger display at 2 missed feedings instead of 1
Bug Fix – Fix range of most HUD actions to 95 for real (has been at 25m)
Bug Fix – Home objects will now keep their names when set
Bug Fix – Improve home updates for land with certain permissions
Bug Fix – Fix "Pick" card on HUD not displaying the selected name properly
Security – Require login to view details on website